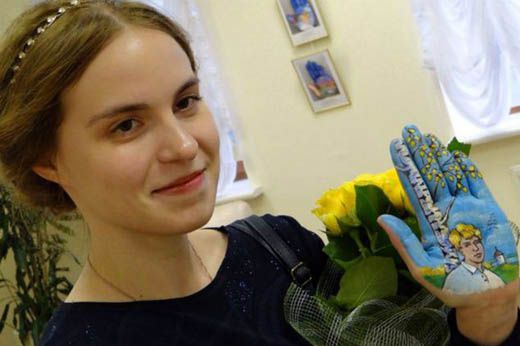 You've got to hand it to this artist – literally.
Svetlana Kolosova, from Moscow, produces some quite incredible art on her left hand. Some pieces take her an hour, other take her up to three.
She applies incredibly detailed painting to her palms and fingers, making some very unique pieces of art. Although Svetlana spends some considerable time to create these masterpieces, they only last 24 hours before she has to wash them off.
The painter has spoken of how she once began drawing and painting leaves onto paper until she invented these handy paintings around five years ago. She also said of how she begins by drawing the outline with a gel pen and then fills them by painting a variety of colours onto them.
The twenty-year-old doesn't just paint; she also has an eye and ear for song writing and poetry.
If, like Svetlana, you too have a unique talent that you feel you should be more recognised for, then you should join ArtRadio and showcase that talent to a platform of individuals that share the same interest as you do.
This is a social networking website for those individuals with an artistry talent, whether they are a songwriter, singer, painter or even videographer, this is the place for them to reach out to the masses and improve their audience.
So why not join talented people like Svetlanan Kolosova and showcase your talent.